Abbott and Ellwood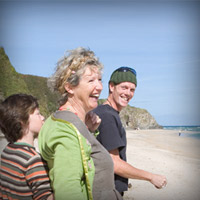 Michael Abbott and Kim Ellwood work together in their studio workshop overlooking the hills to the ocean just outside St Ives in Cornwall. 'The light here on the north coast is always magical, the sea a bright turquoise and the landscape's always wild'.
Hand printed figurative brooches, necklaces and clocks with themes including the garden and the sea, are made to wear, display and hopefully to bring a smile!
Their one-off hand printed metal sculptures explore narrative themes loosely drawn… individual characters emerge through the process of making, using images printed onto metal and found objects to tell a new story.